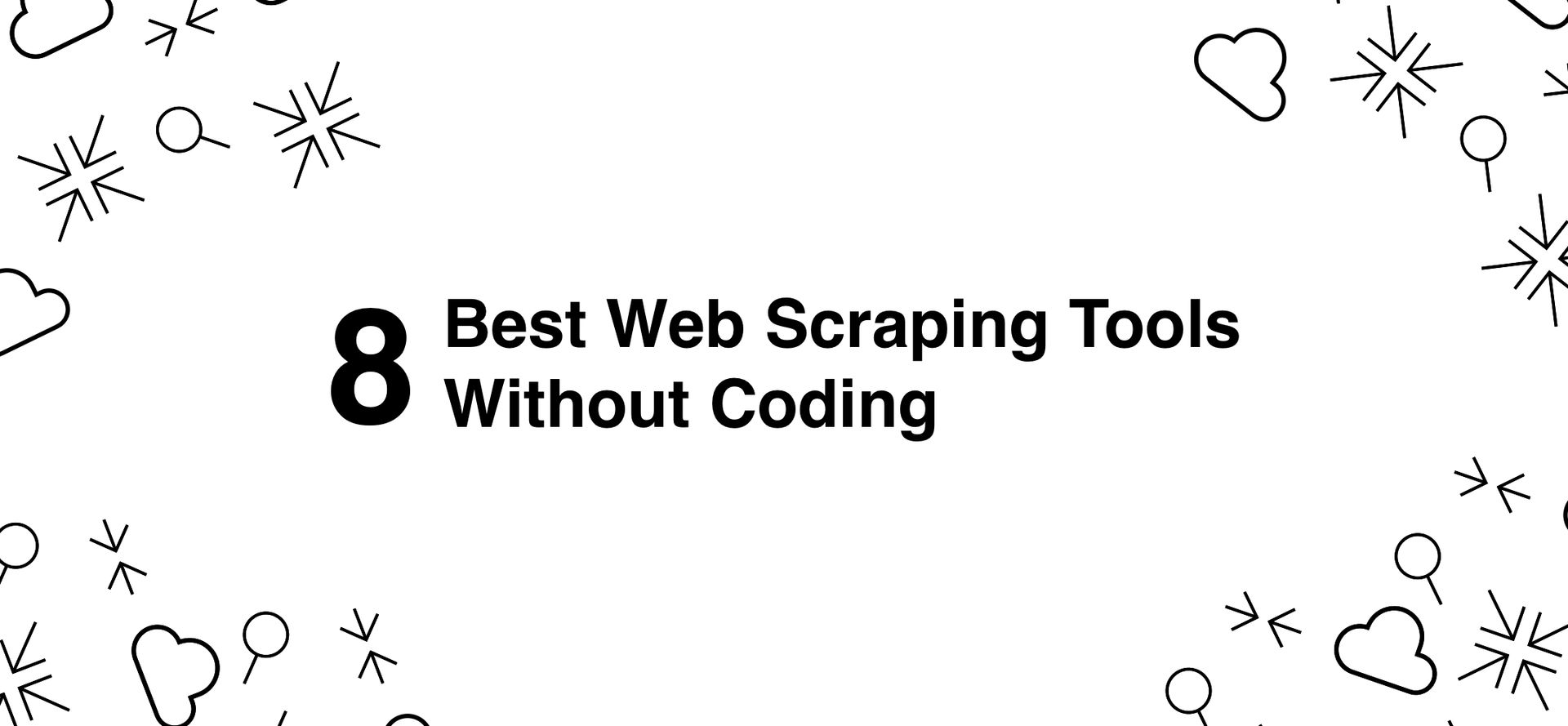 8 Best Web Scraping Tools Without Coding
Data has become the new gold of our modern age. With powerful web scraping tools, we can gain deep insights into the pricing strategies of our competitors, make better-informed decisions and stay ahead of the curve in a competitive market.
In fact, scraping has become so vital that it's now considered an essential part of any successful business strategy. By gathering and analyzing large amounts of data, companies can identify patterns and trends that would otherwise go unnoticed. This may lead to more effective marketing campaigns and improved product development.
By the end of this article, you'll clearly understand why you need web scraping and what tools to use.
So, what is web scraping?
To put it simply, it is a technique that involves using automation tools to extract information from websites. The process involves gathering and compiling information from web pages in a structured, easily analyzed format.
There are always two types of instruments to scrape data from a website: code and no code web scrapers. Extracting data from the web traditionally required programming languages like Python or Perl. However, a simplified no code approach has revolutionized the process, simplifying extracting structured data.
Any of these instruments require building a scraper map - it instructs the scraper on locating specific fields within a website's HTML markup because the data on websites can be messed up. And that's where automated scraping comes in handy. It helps take all that unstructured findings into an excellent, organized structure.
The difference is that with no code tools, you just click on the elements you wish to extract without getting bogged down in technical details. So all the process occurs in the background, and the tool automatically detects and extracts the desired data fields. As a tech writer, I'm not a coding whiz, so I prefer this no code approach:)
Shortly I will review some of my favs online tools I tried to scrape websites and show you how to scrape data from a website within minutes.
Types of scraping tools
There are two kinds of no code scrapers: ones that are ready to go (pre-built) and ones that you can tweak to fit your needs (customizable).
The 1st kind includes ready-made scraping models for popular websites. You give them the links, and they'll cover everything for you.
The 2nd kind is customizable scrapers. They give you more control over what you're scraping. You can create a custom model for any website and grab the information you want.
The good thing is that web scrapers like GoLess include ready and customizable models. It means you can either build your web scraper or choose a ready model from the built-in marketplace.
How to choose the best web scraping tool?
I checked out all the significant no code software, and they all differ in how flexible, reliable, pricey, and functional they are. Let's see:
1. Simplescraper
It is a Chrome extension that enables users to extract structured data quickly: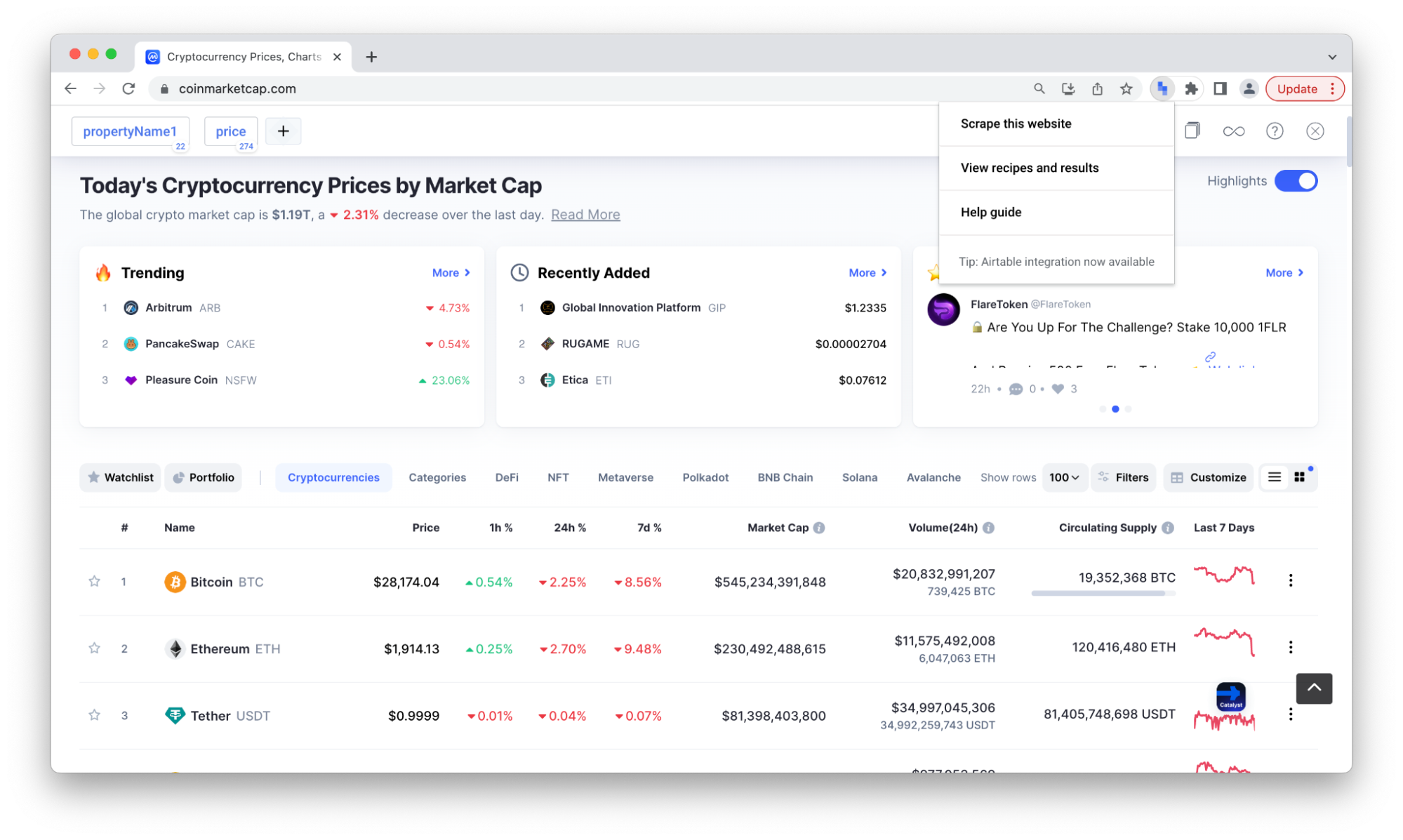 What makes Simplescraper stand out is its ability to provide you output as JSON. Also, users can take advantage of their API to start scraping in the cloud by triggering a webhook and then quickly retrieving the scraped data.
Advantages:
Structured data extraction
API support
User-friendly scraper model creation
Integration with Zapier
Disadvantages:
Creating scraper models is challenging
The free version offers minimal features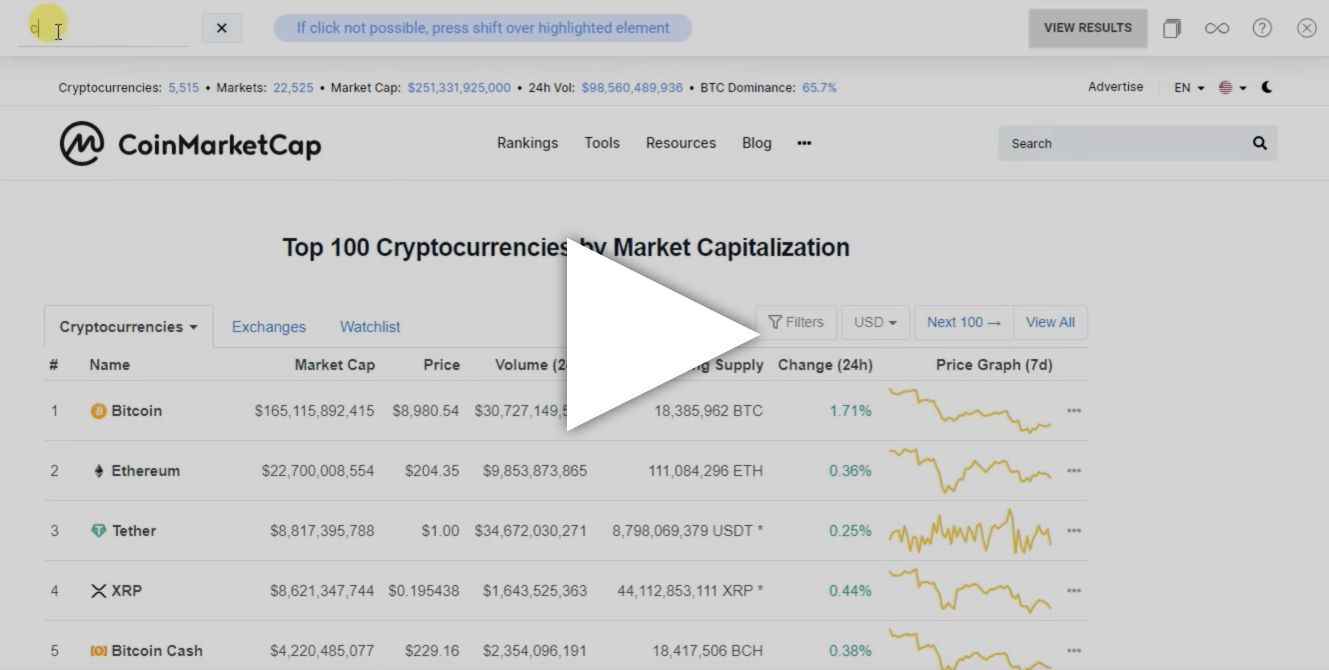 2. Octoparse
Octoparse is a scraper application for desktops that allows users to employ pre-built playbooks or create custom scrapers using a web interface: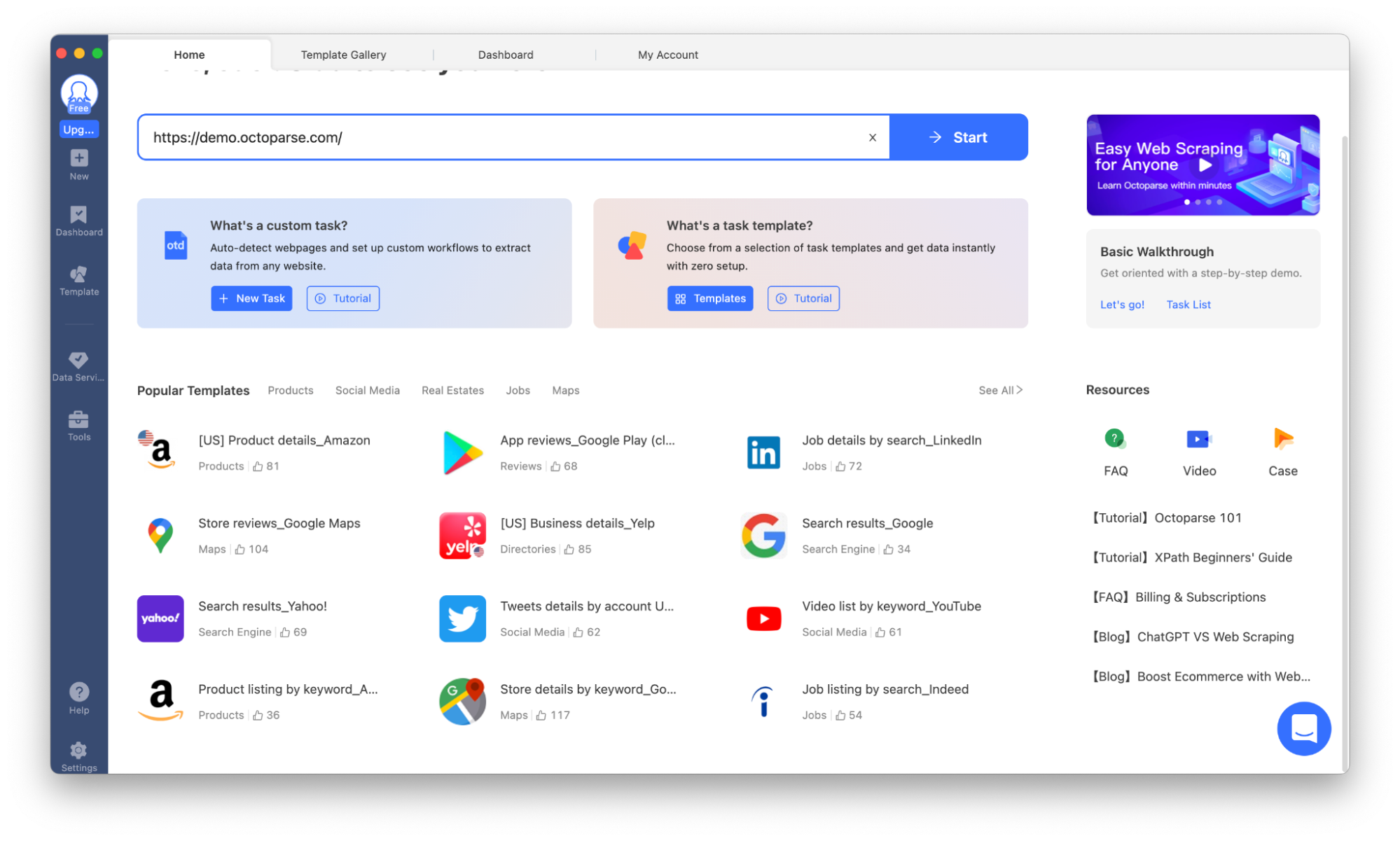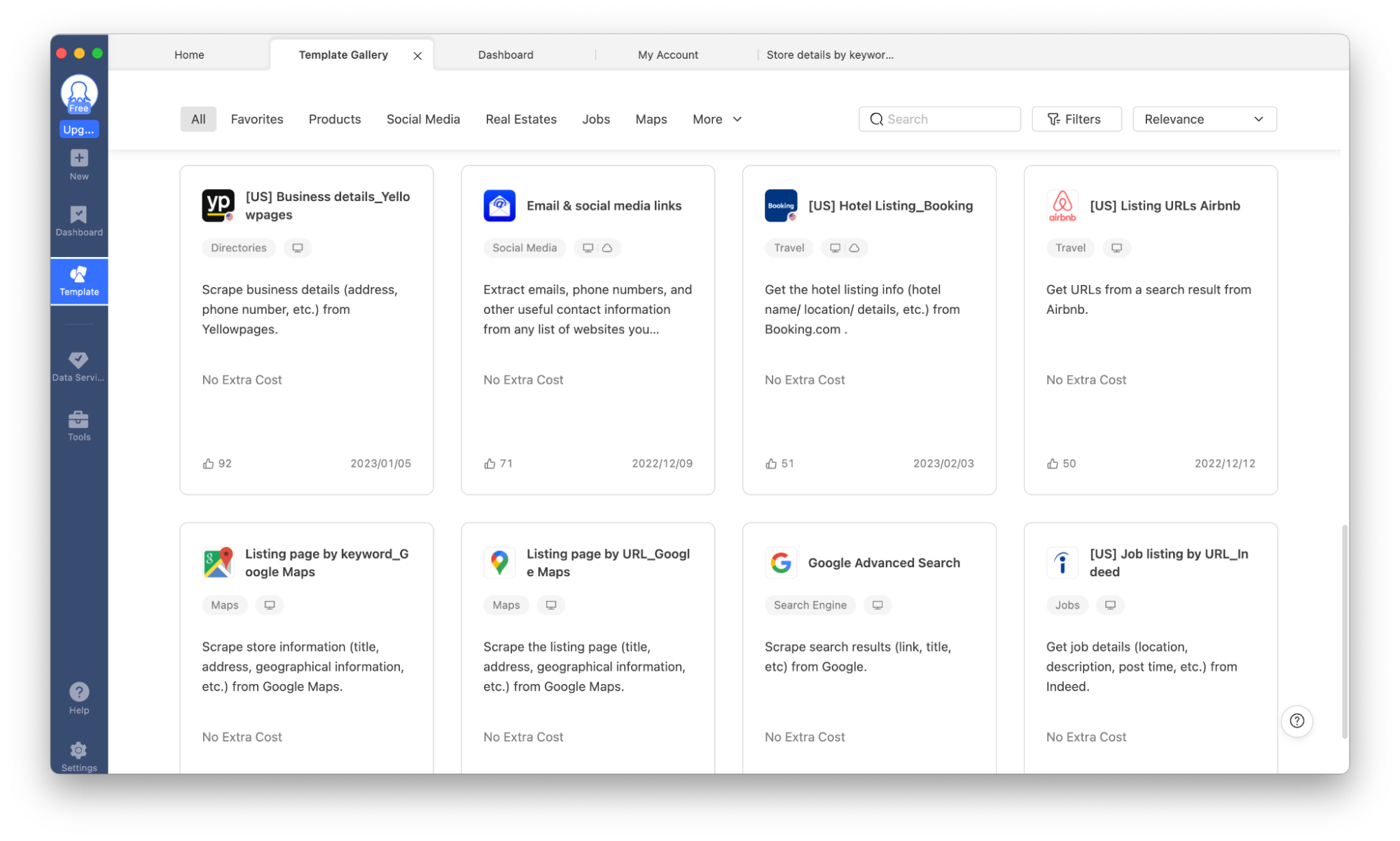 Getting started with Octoparse may require some time and effort to learn the interface, but the application offers advanced features like clean-up and readily available scraper models for popular websites.
Advantages:
Customizable delay settings
Data clean-up functionality
Advanced scraping features
Disadvantage:
Requires downloading an app that is incompatible with Apple silicon computers
3. Instant Data Scraper
With this Chrome extension, you can scrape lists in one click. Just click on its icon, and it will do the work for you! It'll automatically detect a list and give you the results in a CSV file that is easy to download. But here's the catch: while it's great for list scraping, it could be better at scraping individual pages, and few customization options are available.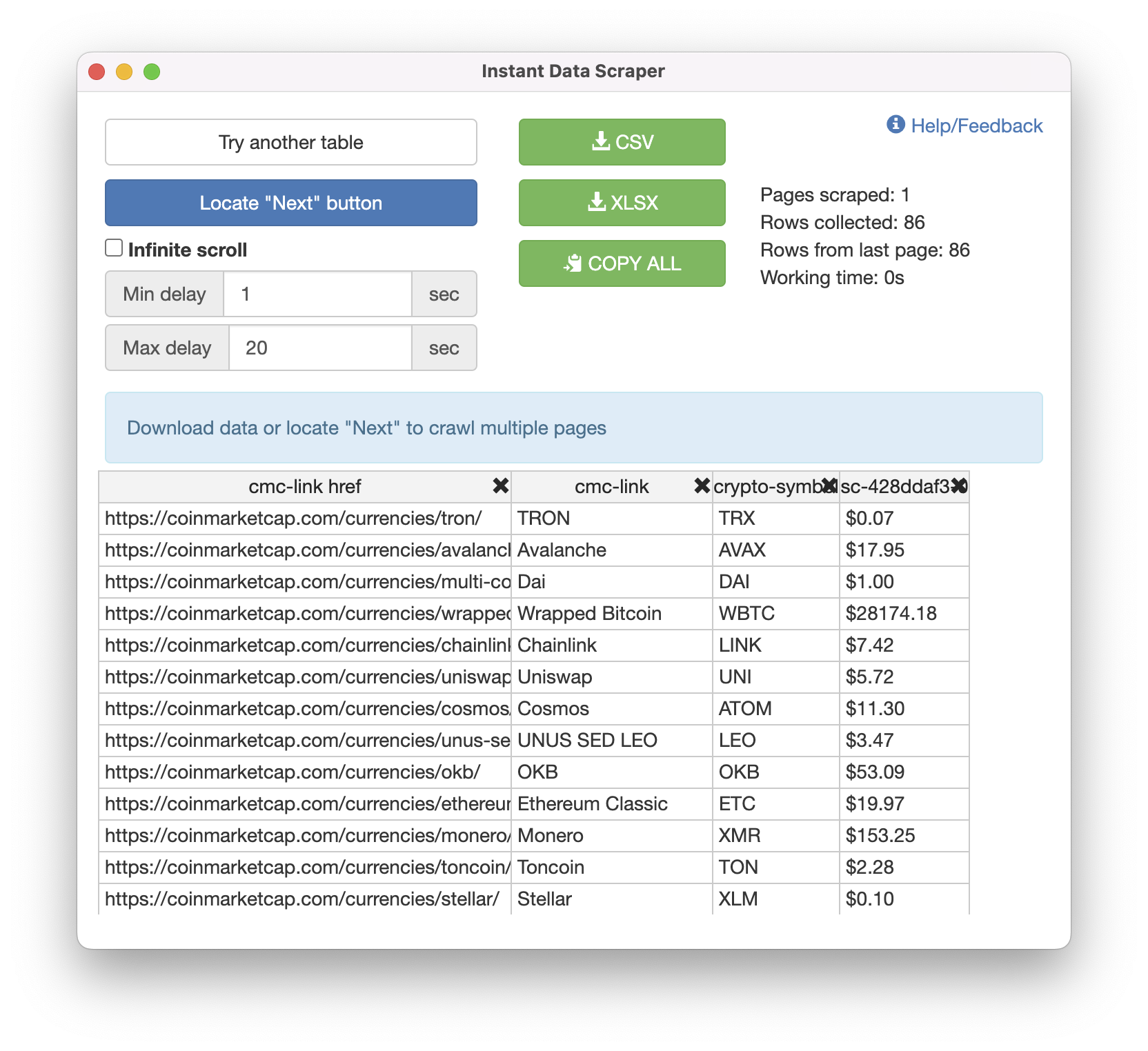 Advantages:
List scraping in one click
Supports infinite scroll and pagination
Disadvantage:
Limited customization options
4. WebScraper.io
With WebScraper.io, you can scrape websites in the cloud and use multiple IP addresses to bypass website restrictions that block scrapers. While it's customizable, WebScraper.io is geared towards e-commerce use.
Advantages:
Cloud-based
Export results in JSON format
Disadvantage:
The interface of this tool may take some time to get the hang of for those who aren't tech-savvy. See below what it looks like: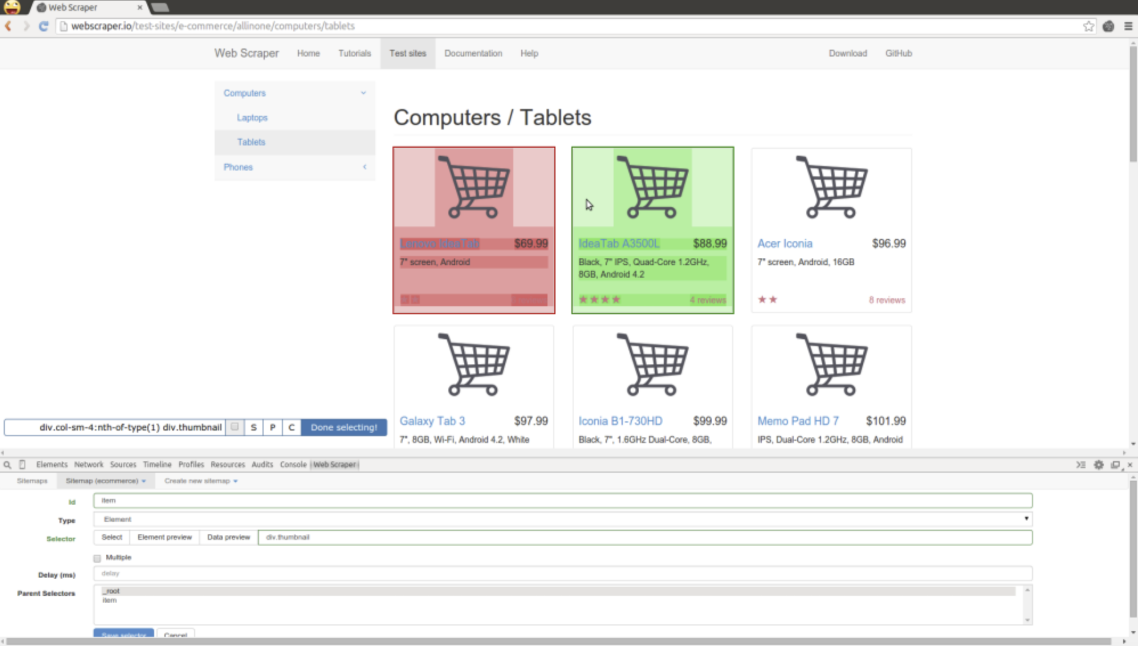 5. Outwit Hub
Outwit Hub is a handy application for your computer. The best part is that you do not have to be a programming whiz to extract info using Outwit Hub - the setup is straightforward to learn.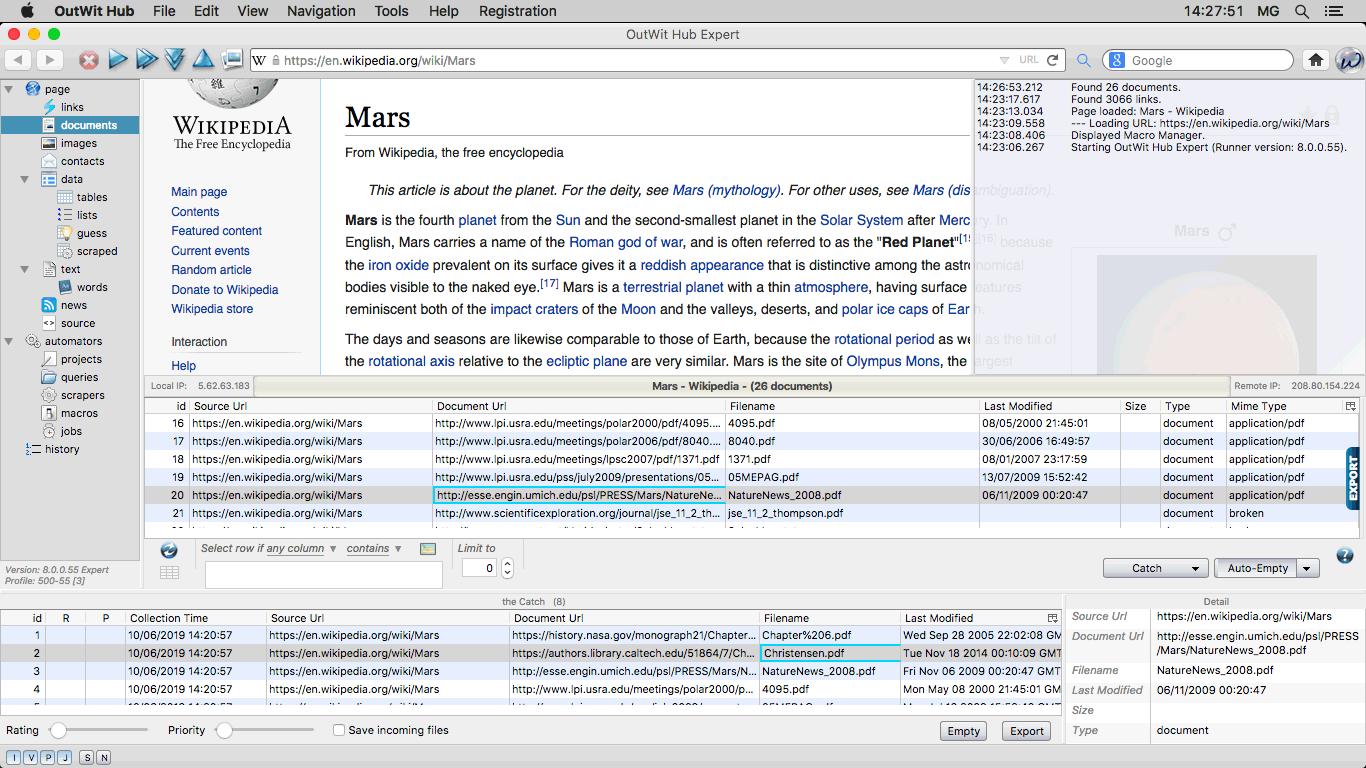 Advantages:
Easy interface
Quick installation
Disadvantage:
Lack of proxy rotation or anti-captcha functions
The app has not been updated for a long time already
Old interface
6. Automatio
It's the ultimate tool for all the data-craving pros. With fantastic features like clicking, data entry, CAPTCHA solving, and taking screenshots, Automatio is definitely the real MVP of scraping tools!
Also, it has a friendly user interface that makes it super easy to track in-progress jobs and customize scraper models to your content. Not only that, but Automatio makes creating deep scraper models and capturing data in multiple formats a breeze.
Advantages:
Solve CAPTCHA
Data entry and clicking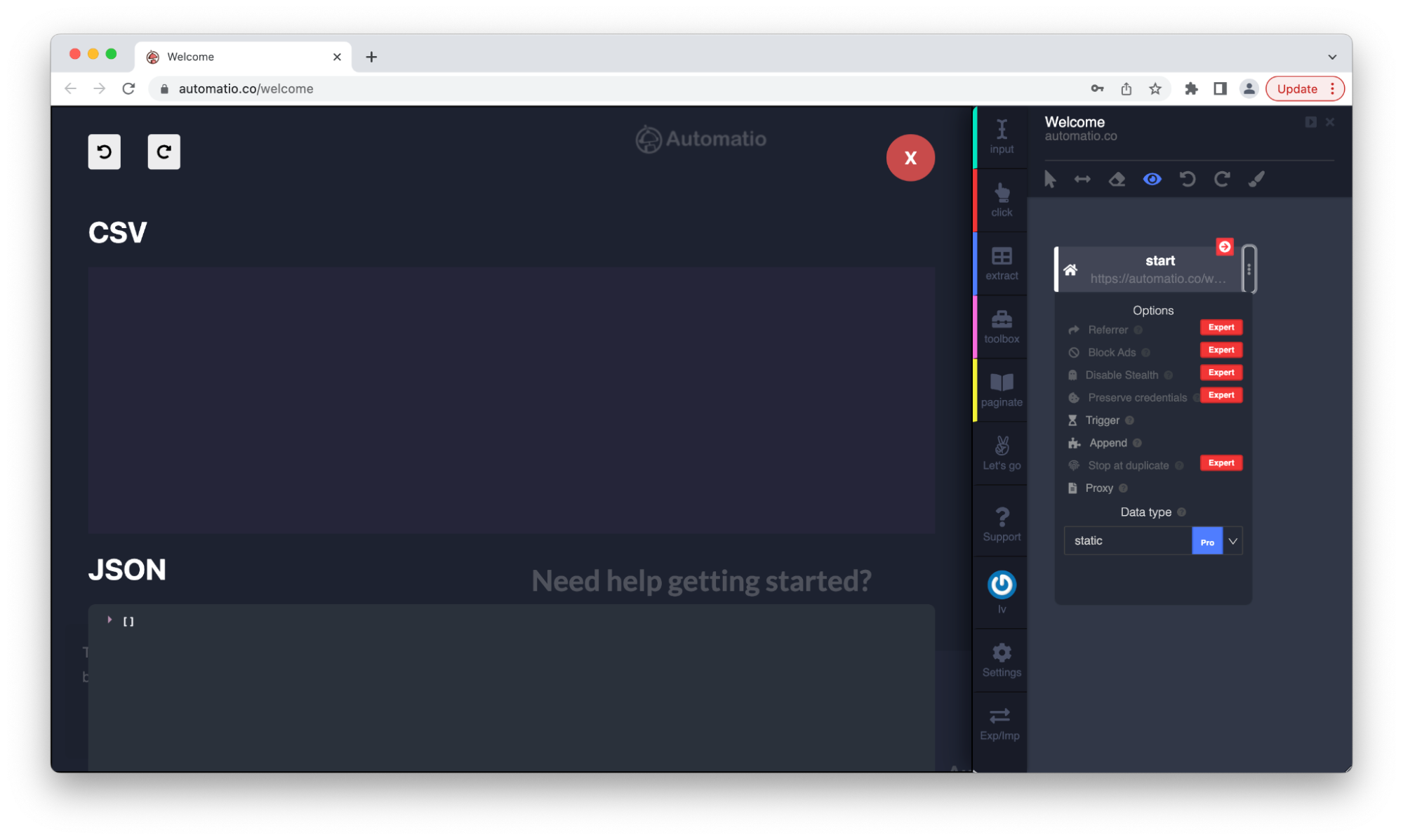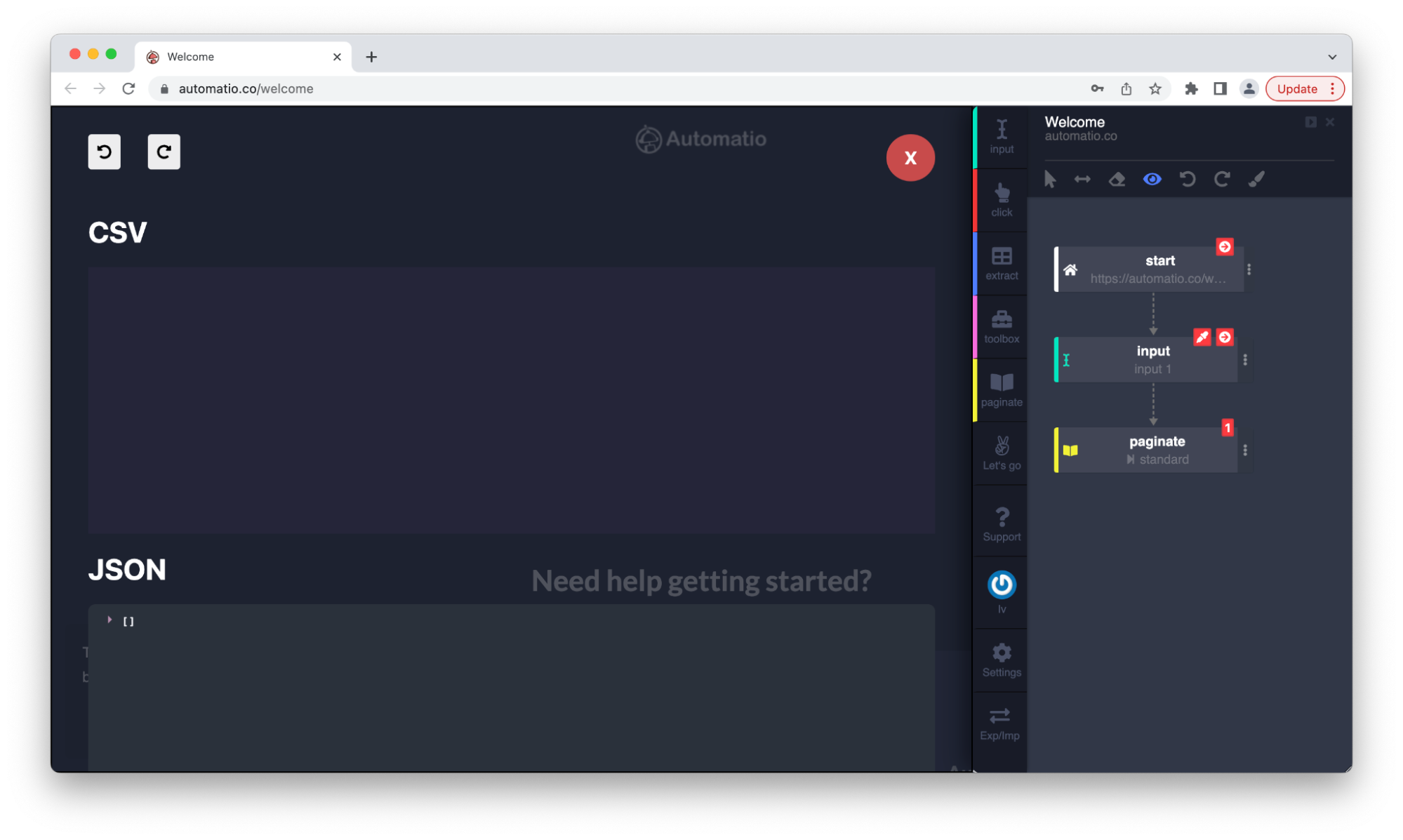 7. Zyte
Zyte offers their API, which can learn how to get around bans and changes that websites make. This means you won't get blocked while scraping. The API also lets you run javascript and act like a human to retrieve more information. Zyte shines with its user-friendly tools and well-documented features, especially when it comes to building scraper models. As a result, it's an excellent choice for deep scraping, allowing you to extract vast amounts of data quickly and effortlessly.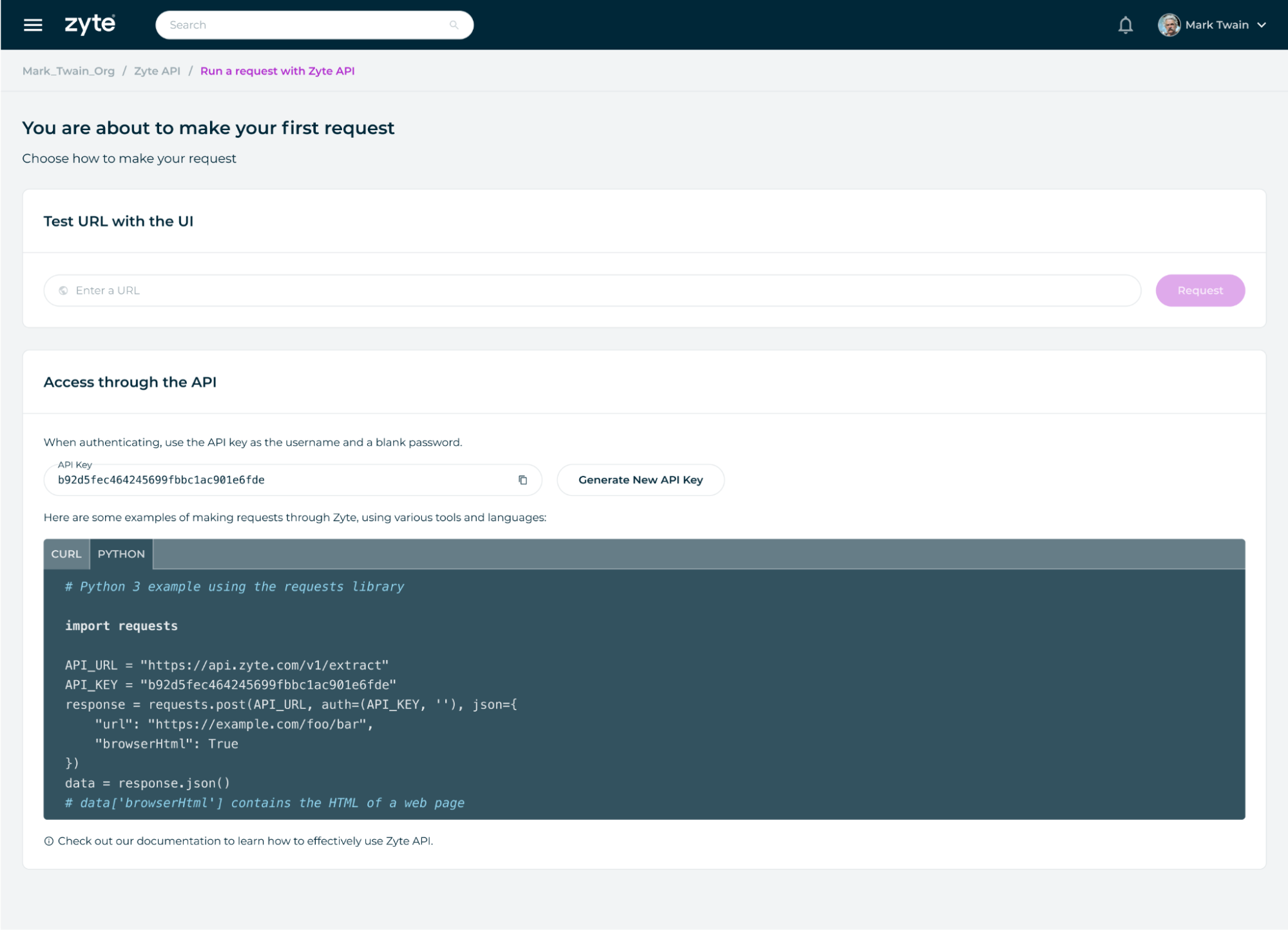 Advantages:
Regular updates with excellent documentation
More effective than standard rotating proxies
Rapid scaling
Low latency
Disadvantage:
Now, let's take a look at the best web scraping tool: GoLess
Have you heard about it? In general, this tool is not only for web scraping. It lets you automate tasks without any coding from your browser.
In GoLess, you build your program by playing with blocks - you can mix and match different logic blocks to create one big task that performs all the necessary actions. It's the ultimate time-saving hack for anyone who wants to automate repetitive tasks. Here is what it looks like: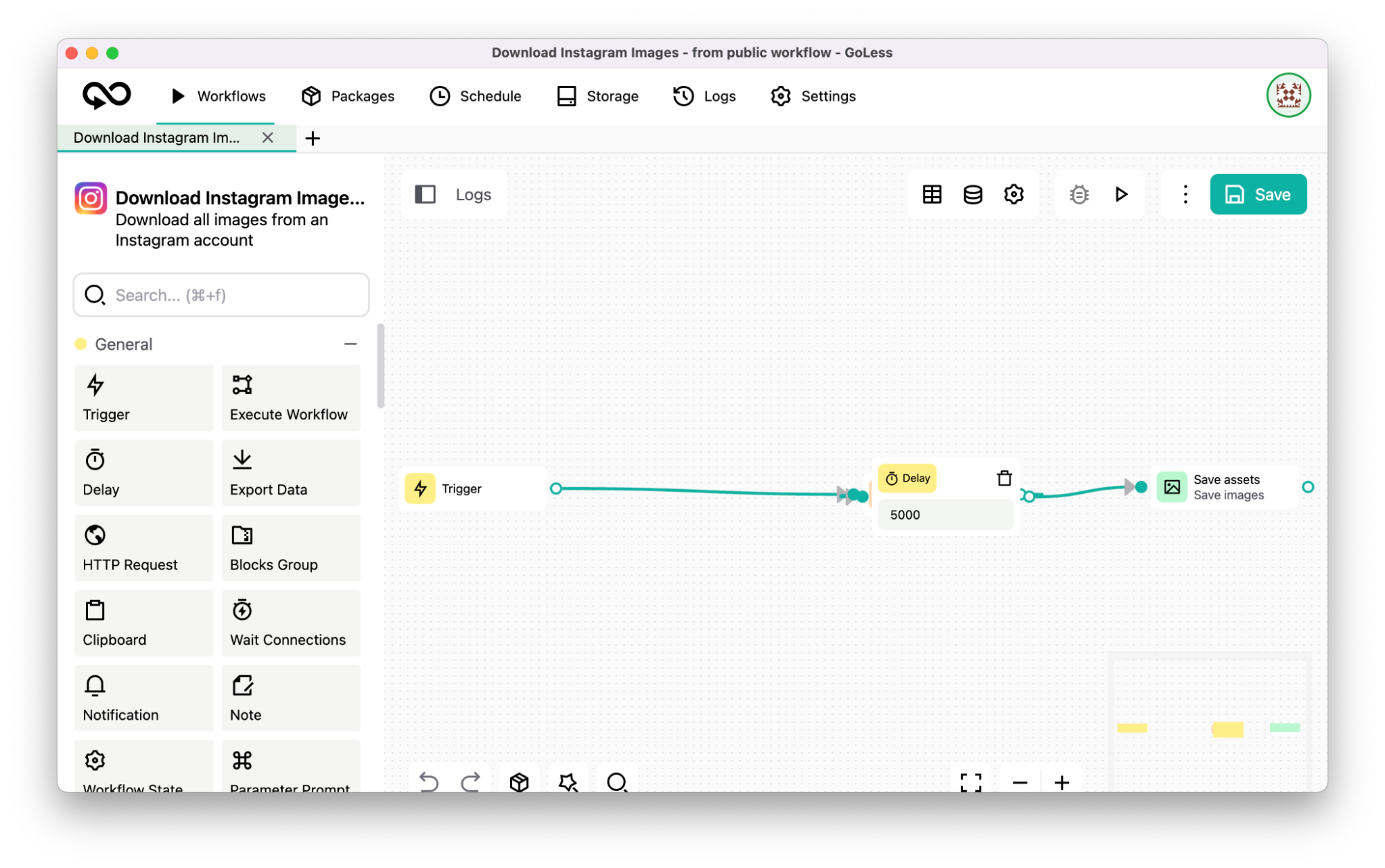 One of the key advantages of automating your data collection with GoLess is the significant time and effort savings it provides. Automating repetitive clicks and data extraction tasks allows you to streamline your workflow and complete tasks faster, leaving more time for other important work.
Let's take a look at some examples:
Improve your website testing process: you can eliminate human error with automated clicking and ensure that all interactive elements function properly. This will help you to catch potential issues early on and avoid costly mistakes.

Keep track of everything. For example, with GoLess, it is possible to monitor prices gathered from multiple sources simultaneously. This will help you to get a comprehensive view of the market and make more informed decisions based on the info. Additionally, you identify pricing anomalies or discrepancies, which is an essential signal of market changes.

Optimize data entry - automate repetitive tasks like form filling, database information entry, and spreadsheet updates. You can easily organize and analyze the data by inputting scraped info into predefined tables or docs. This will help you to quickly identify patterns, trends, and insights that might be difficult to discern from raw data alone. Moreover, predefined tables help to reduce the risk of errors or inconsistencies.

Reduce the amount of time spent on social media.
Automate clicks to put likes, comments, and messaging on social media platforms. This system will help you increase your social media presence and engagement by consistently interacting with other users.
If you're a beginner, you might want to know the typical ways of extracting data from websites to develop your own ideas. The web scraping business is huge! Big companies like Google, Amazon, and Airbnb have been using it for years to get ahead.
Google scrapes lots of web pages every day to power its search engine. At the same time, Amazon uses it to make sure their prices are always competitive. And back when Airbnb was starting out, they even scraped Craigslist to reach out to homeowners.
It's up to you to figure out how to use that data to your advantage. So go ahead, get creative!
Here are more popular use cases on how to scrape a website with GoLess:
Companies commonly use data extraction for customer acquisition and sales. You can enhance your performance by creating contact lists and contacting people in bulk.
GoLess allows you to supercharge your sales process by seamlessly importing website leads into your CRM. It is possible to even automate sending templated emails, making your outreach efforts more efficient than ever before.
If you want to stay ahead of the competition, start scraping pricing and product details. You can dynamically set your prices based on competitors and boost your profit margins.
You need market intelligence and product availability alerts to take your e-commerce game to the next level. With GoLess, you can start by extracting images, pricing, and other valuable competitor information and build product lists.
With this info, you will create a killer list of products that will make your customers drool. Plus, you'll be able to keep an eye on what your competitors are up to and ensure you're always one step ahead.
According to the numbers, algorithms are responsible for 70% of all trading activity. These powerful computer programs use complex math and analyze global prices and millions of online articles to make predictions about the markets.
With GoLess, you will be the first to get market signals, important notifications, and updates when websites change. So whether you're into crypto or day trading, timing is everything when it comes to making money in the markets.
Price tracking of your competitors is for more than just e-commerce. This competitive intelligence can also benefit other industries, like logistics, service businesses, and more. By monitoring market prices and demand, you will stay ahead of the game and make more informed decisions.
But that's not all. With GoLess, you can also use tracking tools to keep tabs on government tenders and other opportunities as they arise. This will help you find new business and stay ahead of the competition.
Online reputation management
If you want your marketing campaigns to be successful, you need to work with the right persons: influencers and bloggers. That's why GoLess can help scrape social media platforms to find the best candidates. Then you will need just to analyze the data to create metrics, like engagement rates and sentiment analysis on all comments for a given profile.
To sum it up
If you want to truly understand the power of web scraping, it's important to get your hands dirty and start experimenting with different use cases. First, look at the GoLess marketplace of automated workflows for more examples.
So don't be afraid to explore how web scraping with GoLess can help you achieve your goals!